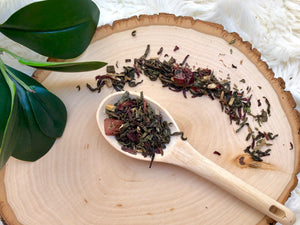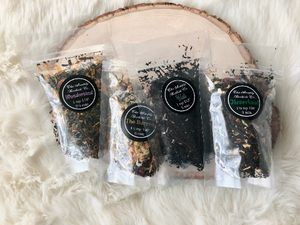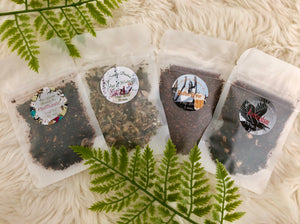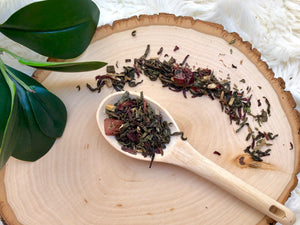 "Manon" - Hibiscus Green - Throne of Glass
Inspired by the fierce witchling she is, Manon is a blood red mix of Hibiscus Green tea with notes Cranberry and Cherry, and gold shimmer.
In addition to creating the crimson brew, the hibiscus represents the wyrm Abraxos and the flowers he would rather be sniffing.
Hot steeping instructions:
1 1/2 tsp - 3-4 mins - 170°F
Cold Steeping Instructions:
1 1/2 tsp  per 6 Oz of cool filtered water refrigerated for 6+ hours.
Quantity info: 
Each Sample baggie contains enough to make at least 4 servings
Each Medium baggie  has a round sticker label and contains enough to make at least 10 servings
Each Tin contains 2oz by volume (2" wide, 2" long, 1" deep) makes 8-10 servings


Ingredients:
Green tea, Hibiscus, Cranberry, Papaya, Stevia leaf, Natural Cranberry, Cherry, and Blood orange extracts, Anatto seed color, mica pearlescent pigment (Caffeine Free)


Note:
Please note these tins are small but will make the quantity of tea specified while following directions. 
Volume in the bag varies on brewing instructions so a tea that requires 1 tsp. per serving will contain less tea by volume than one that requires 2 tsp.
Teas included are blended and packaged in a home kitchen. 
Please contact us with any allergen concerns! 

Allergen Notice: 

Original distributor of some of the ingredients for all teas also package and store tree nuts, soy, and dairy in common areas.