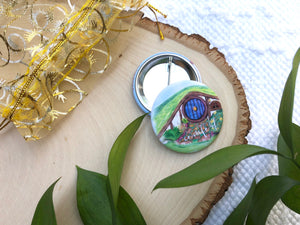 "Comfort" Hobbit Button - J. R. R. Tolkien
"Comfort."
Featuring a hand painted and drawn hobbit hole this JRR Tolkien inspired matte soft touch button has a soft finish that insures there is no light glare when photographed!

This listing is for one button that measures 1.5 inches in diameter.

Please note this button will come as pictured and will not come with a card backing. Not only did we opt out of this to keep the cost down for you, but we also want to avoid added waste. A cardboard piece does look great initially however the second you remove it, the backing is tossed into the bin. In a effort to promote environmental conservation we have opted out of this.