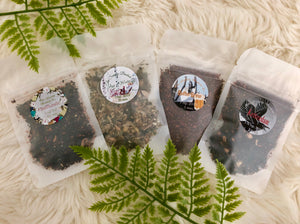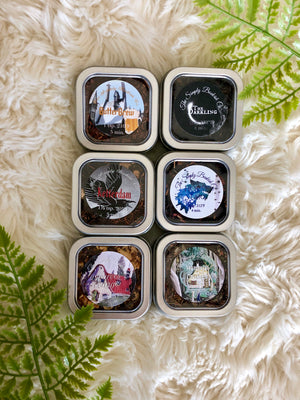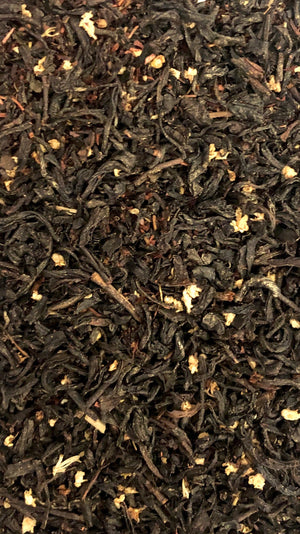 "Honey Stardust" - Golden Earl Grey Tea - The Starless Sea
Honey Stardust is a drink Mirabel ordered from the "secret menu" in the book, The Starless Sea by Erin Morgenstern. "It's basically an Earl Grey tea with soy milk and honey and a little bit of vanilla." We did take a liberty or two and you'll find ours has a golden shimmer once you've steeped it! We  recommend adding your own dash of soy milk (or your preferred cream) and raw honey to experience the full effect! 
Hot steeping instructions:
1 tsp - 4min - 212°F
Quantity info: 
Each Sample baggie contains enough to make at least 4 servings
Each Medium baggie  has a round sticker label and contains enough to make at least 10 servings
Each Tin contains 2oz by volume (2" wide, 2" long, 1" deep) makes 8-10 servings


Ingredients:
Black tea, Honey bush, Elderflowers, natural and artificial bergamot flavor, honey flavor, natural vanilla flavor, Anatto seed color, mica pearlescent (contains Caffeine )
Note:
Please note these tins are small but will make the quantity of tea specified while following directions. 
Volume in the bag varies on brewing instructions so a tea that requires 1 tsp. per serving will contain less tea by volume than one that requires 2 tsp.
Teas included are blended and packaged in a home kitchen. 
Please contact us with any allergen concerns! 

Allergen Notice: 

Cassian: contains Coconut
Emaa contains Pistachios

Original distributor of some of the ingredients for all teas also package and store tree nuts, soy, and dairy in common areas.