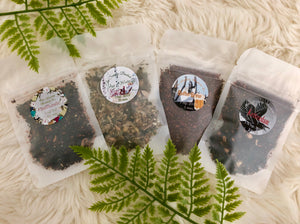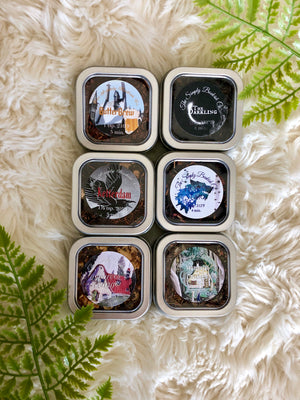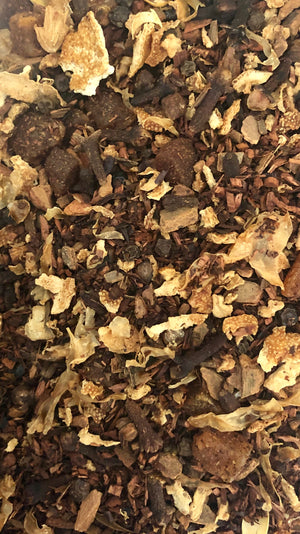 "Drink" - Spiced Citrus Apricot Herbal Tea - The Starless Sea
The first thing after rolling 5 hearts Zachary Ezra Rawlins encounters is a mysterious liquid simply labeled "Drink," which of course he does. We have recreated the notes of orange blossom, honey, clove and spices so beautifully depicted by Erin in "The Starless Sea." 
Hot steeping instructions:
1.5 tsp - 4-5min - 212°F
Quantity info: 
Each Sample baggie contains enough to make at least 4 servings
Each Medium baggie  has a round sticker label and contains enough to make at least 10 servings
Each Tin contains 2oz by volume (2" wide, 2" long, 1" deep) makes 8-10 servings


Ingredients:
 Honey bush, cinnamon, clove, apricot, bee pollen, lemon, orange, peppercorn, natural blood orange flavor, natural Vanilla flavor,  (Caffeine free  )
Note:
Please note these tins are small but will make the quantity of tea specified while following directions. 
Volume in the bag varies on brewing instructions so a tea that requires 1 tsp. per serving will contain less tea by volume than one that requires 2 tsp.
Teas included are blended and packaged in a home kitchen. 
Please contact us with any allergen concerns! 

Allergen Notice: 

Cassian: contains Coconut
Emaa contains Pistachios

Original distributor of some of the ingredients for all teas also package and store tree nuts, soy, and dairy in common areas.