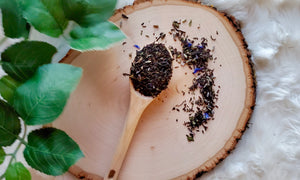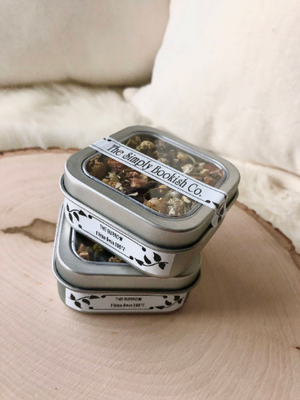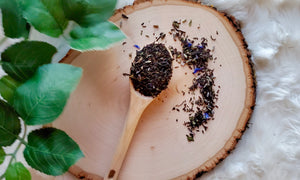 "Shadow King" - Lavender Mint Black Tea - The Shadows Between Us
Ready to woo the shadow King?

Great hot or cold brewed
Cold Brew instructions:
Place 2 tsp tea per 12 oz of cool water into a glass and place in refrigerator for 4-12 hours. You can stir occasionally or leave it until you're ready to enjoy. Note: Typically the longer you leave it the more complex and flavorful it will become. 
Hot Steep instructions:
1tsp - 3min - 200°F
Quantity info:
Each Sample baggie has strip labels and contains enough to make at least 4 servings
Each Medium baggie has a round sticker label and contains enough to make at least 10 servings
Each Tin (2" wide, 2" long, 1" deep) makes 8-10 servings


Ingredients:
Darjeeling, Black tea, lavender, peppermint, cornflower petals. (Moderate caffeine) 
Note:
Please note these tins are small but will make the quantity of tea specified while following directions.
Volume in the bag varies on brewing instructions so a tea that requires 1 tsp. per serving will contain less tea by volume than one that requires 2 tsp.
Teas included are blended and packaged in a home kitchen.
Please contact us with any allergen concerns!

Allergen Notice:
Cassian: contains Tree Nuts (coconut)
Original distributor of some of the ingredients for all teas also package and store tree nuts, soy, and dairy in common areas.