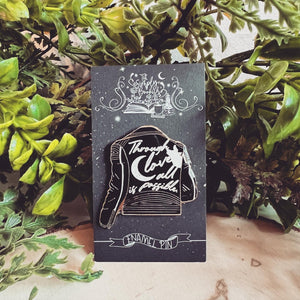 "Through Love all is Possible" - Crescent City Hard Enamel Pin
Danika's Jacket featuring a horned devil the sigil for the pack of devils. Measuring approximately 1.75 inches tall this hard enamel pin is a exclusive and custom design and Has two pin-backs. 
Seconds pins will have some visible flaws such as glitter in the wrong place or clear enamel over pour.